Malaysia Sexiest Woman 2006 - Hannah Tan, pledges support towards TEDxGurneyDrive!
To make our life better and change this world, it's all started with a Thought, then

Talk

and

Actions

.
"Ideals Worth Sharing" was all where TED first held in California, 1990. To date, more than 700 talks across the continents are available online and speakers like Bill Clinton, Bill Gates, Google founders Larry Page, Jamie Oliver and many Noble Prize Winners speak for an inspiring 18-min in TED and TEDx Talks.
And for the 1st time in history, TED is happening in Penang, Malaysia.
It's named

TEDx

GurneyDrive.
Instead of writing formally what are the objectives and missions (which you can read in our official website and facebook page), I want to write why are we bringing TED to Penang.
Penang itself has a lot of stories to tell. From a British colonial to a vibrant melting pot it is today, Penang passed through a lot of ups and downs. And it's the People who embrace positive change even in turbulence times and make Penang what it is today.
Penang might not be the bustling metropolitan like Kuala Lumpur or Singapore. However, Penang itself is unique in terms of its lifestyle, roadside hawker foods, "kiamsiap" attitude of some and rich history.
It is a blessed place with beautiful but now polluted beaches, located so near to the modern yet heritage-feel city with much greeneries like the Penang Hill, Youth Park and Botanical Garden.
There're a lot of

proud stories

here, which can inspire us to move forward. From a

65-year-old Aunty selling Char Kuey Teow

along

Macalister Road

, middle age working adult in

Bayan Lepas MNC

to a

22-year-old USM undergraduate

who fight for the future; all of these converge together to become a

beautiful story

.
This is why we are bringing TED to Penang. We want to let

everyone who

live, work

or

study

in Penang

to

feel the prides

and with the spirit, all can achieve greater heights in life.
So, TEDxGurneyDrive is not another talk. No, you don't come to listen to a talk.
You

come

here for

beautiful stories.

And get

inspired

.
Venue of TEDxGurneyDrive
9 speakers

, each speak for exactly 18-min, will ensure you a different and fruitful Saturday morning.
They are:- (For more details please visit our official website)
1.
Professor Dato' Anwar Fazal
The Winner of the "Alternative Noble Prize" and "UNEP Global 500"
A founder and one of the prime movers of several local and global citizens movements, among them the Consumers Association of Penang (CAP) founded in 1969, International Baby Food Action Network (IBFAN) formed in 1979, Health Action International (HAI) in 1981 and Pesticide Action Network (PAN) formed in 1982.
World Greenest Man in 2008
A global environmental speaker and entrepreneur. He is a board member of the International Network of Environmental Management, a non-profit organisation working with businesses internationally to inspire them to make their operations more environmentally friendly. Matthias has given environmental talks in 38 countries all over the world.
The Penang State Exco of Health and Welfare, Caring Society, Environment
His determination on bringing out his passion on social and environmental issues gains a lot of people's support including the new initiative "Cleaner Greener Penang" and "Say No to Plastic Bags" Campaign

.
Together with Tun Dr. Lim Chong Eu, he founded PSDC (Penang Skills Development Centre), the first skills industry-led training centre to be set up in Malaysia.
For more than two decades, they have trained over 150,000 participants in more than 7,000 courses. Today, they have a Membership of 155 companies.
5.
Professor Dato' Ho Sinn Chye
Former Dean in Universiti Sains Malaysia.
Now a
Deputy Vice Chancellor of the Wawasan Open University,

Penang who brings e-learning initiatives to the education industry.
An entrepreneur for consulting business in the online games niche.
He also wants to document his journey as an entrepreneur and share his success and failure with the world. Neil currently lives in Kuala Lumpur, Malaysia – and aims to visit 25 countries before he is 25 years old.
Most Outstanding Young Malaysia Award Winner
The founder of Great Ideals, Mr. Tan Lay Seong is the first life insurance manager to receive The Outstanding Young Malaysian Award (merit)(Personal Improvement And Accomplishment); Also, the youngest biography writer (Chinese & Englis version) in life insurance industry and released his own motivational and training CD/VCD; Mr.Tan is an international speaker and a regconised member in Persatuan Pemidato Malaysia. 5 consecutive years of winning Great Eastern Life Group Sales Manager National Champion of the year, breaking the 100-year record in the company.
A senior fellow of Socio-Economic and Environmental Research Institute (SERI), Penang. He is also a
columnist for TheSun newspapers
in Malaysia, focusing on issues related to urban governance, housing and urban planning.
Once being Associate Professor in the School of Social Science in USM and a Vice principal of TARC, Dr Goh served as a member in several government bodies. He was also involved in projects conducted by international and regional organisations, including United Nations Centre for Regional Development (UNCRD), Urban Management Programme (UMP) of the United Nations Asia Pacific Region, and Asian Productivity Organization (APO)
Founded Jazzada Solution a.k.a. Penang Youths at the age of 17. Host of the largest annual youth event in Penang - Youth Jam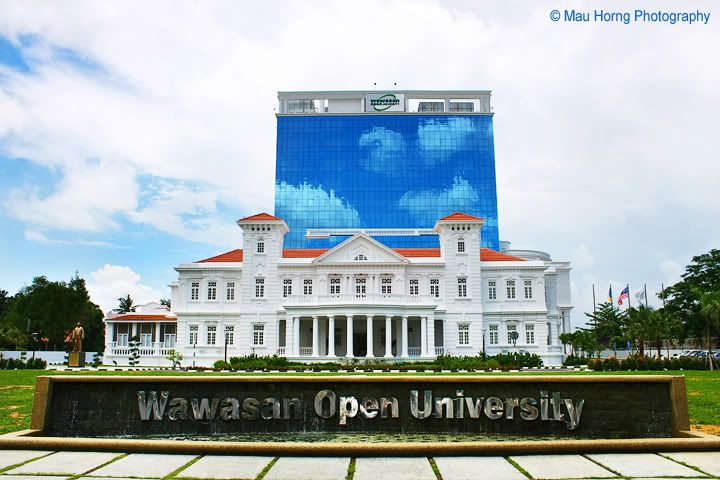 WOU - Venue of TEDxGurneyDrive (c) Mau Horng Photography
DATE:
30 APRIL 2011 (Saturday)
VENUE:
WAWASAN OPEN UNIVERSITY, PENANG
FEE:
RM 20 only (Lunch Included)
100 SEATS LIMITED, less than half left
REGISTER HERE NOW at